COVID-19 UPDATES | Semadang Adventure
Dear Friends,
We are in this together and we hope that you are safe and healthy. As a response to the novel coronavirus pandemic (COVID-19) outbreak, the Government of Malaysia has imposed the Movement Control Order (MCO) effective on 18 March 2020 throughout the country in an attempt to curb the spread of infections through human interactions.
This consequently has led to disruptions in the operations of tours and activities in Kuching. However, we aim to stay connected to answer all your questions during this unprecedented pandemic.
Be safe and be well.
Doring Sengeng
Director
Semadang Borneo Adventure Sdn Bhd
Below is the latest update of what is happening in Kuching Sarawak, Malaysia.
POSTPONEMENT & CANCELLATION
To postpone your trip, please contact us by email to schedule your trip. info@semadangkayak.com. There will be no fees for postponement.
Confirmed bookings for which we have received a deposit or full payment, we will process your cash refunds for interrupted trips as they get cancelled.
What if I cancel?
We will not charge any cancellation fees if you cancel your booking during MCO & RMCO phase where you are unable to enter Sarawak, Malaysia.
We accept booking for trip starting on 10 June 2020 (Phase 6 – RMCO). This is valid  for Malaysians and tourists who has not traveled interstate or out of Malaysia since the phase 1 of MCO.
GUIDELINES TO ENTER KUCHING SARAWAK DURING RMCO [UPDATED 15 JUNE 2020]
To enter Sarawak and specifically to Kuching, all Malaysian citizens & all foreign nationals including those with work permits and valid visas and Malaysia My Scond Home (MM2H) programme who have been in Malaysia before MCO 1 are allowed to enter Sarawak without the need to undergo quarantine. 
Foreign national and participants of MM2H programme as mentioned in (1), must seek permission from JPBN. Application link to SDMC (JPBN) as below:
Travelers no longer required to undergo COVID-19 test three days before entering the state.
All travelers entering Sarawak through various entry points including land, air and sea are required to download the MySejahtera app, fill in the E-Health Declaration form on the state government's website, and are advised to download Sarawak's COVID Trace and Qmunity apps.
All Sarawakians and all foreign national returning from abroad during MCO (starting March 18) will be required to undergo a mandatory 14-day quarantine at a hotel and will be screened for Covid-19 on the 10th day of quarantine. All the cost of quarantine will be borne by themselves.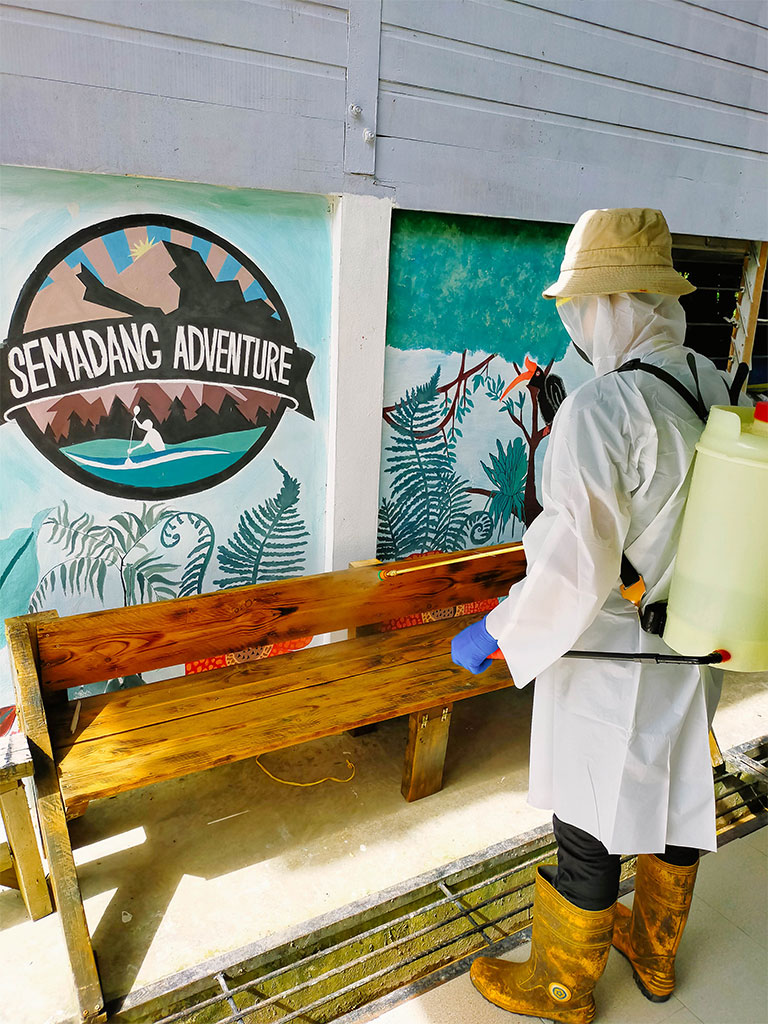 HOW TO PROTECT YOURSELF FROM THE COVID-19 VIRUS
Wash your hands frequently and carefully. Use warm water and antibacterial soap and rub your hands for at least 20 seconds. 
Wear a face mask. Masks can help prevent people who are asymptomatic or undiagnosed from transmitting SARS-CoV-2 when they breathe, talk, sneeze, or cough.
Take physical (social) distancing seriously. Maintaining a distance of approximately 1 meter from others in public places since respiratory droplets produced by coughing or sneezing do not travel more than 1 meter.
Avoid touching your face or head, including your mouth, nose, and eyes. This can give Severe acute respiratory syndrome coronavirus 2 (SARS-CoV-2) a chance to go from your hands into your body.
Practice good hygiene and avoid touching other people. Stop shaking hands and hugging people. 
Don't share personal items. Use an alcohol-based hand sanitizer with at least 75% alcohol if you have to reuse other people items.
Self-quarantine if sick. Call your doctor if you have any symptoms. Stay home until you recover. Wear a mask and wash your hands as much as possible. 
Keep up to date on the latest information from trusted sources, such as WHO or your local and national health authorities. Why? Local and national authorities are best placed to advise on what people in your area should be doing to protect themselves.
RELIABLE SOURCES FOR COVID-19 INFO