Home
Semadang Kayaking | Kayaking Trip in Kuching
Join us and enjoy kayaking at its Best!
Semadang Kayaking offers a wide variety of all-inclusive day trips adventure tours in Upper Sarawak River or locally known as Semadang River, ranging from river kayaking, bamboo rafting, caving and jungle trekking. Our kayak trips are guided by experienced and enthusiastic certified kayak guides.
Come and experience kayaking through the beautiful southern part of Kuching, explore the pristine wilderness of the Borneo rainforest, encounter wildlife that share our beautiful southern tropical jungle, embrace our passion for kayaking and nature, and have the adventure of a lifetime in Borneo!
Our kayaking tours include the use of top of the line double polyethylene sit-on kayaks from Perception Kayak Designs. We provide all kayaking, rafting and caving equipment and serve hearty and home-cooked food to our guests using locally sourced ingredients and our traditional recipes.
Our goal is to provide you with unique travel experience and to strive to give you what you want. Our motto will and always be, arrive as a guest and leave as a friend. We are committed in providing you with a personalized service and let you leave with a memorable experience in Borneo. At the same time, in everything we do and decisions we make, we make it a point to always consider and give back to the local community, local cultures and the environment.
Kayaking has quickly become one of the most popular Kuching activities, choose wisely, and choose
Semadang Kayak
!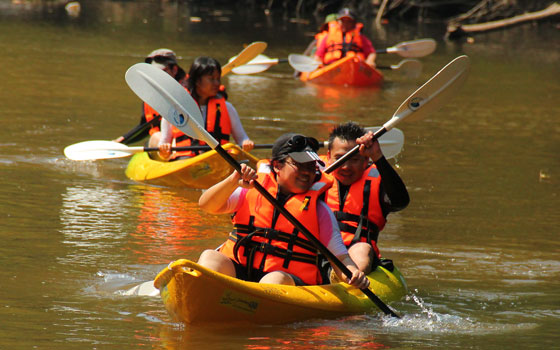 Semadang Kayaking and Bamboo Rafting Adventure are the authentic water sport activity that will bring you closer to the nature and gives you an amazing experience to enjoy the beautiful sceneries at Sarawak Borneo rainforest along Sarawak river in Kuching Sarawak.
Testimonials
"Outstanding adventure! Good service by Semadang Kayak team and we had lot of fun! Thanks."
– William Ong, Singapore, 11 August 2012, Kayaking & Bamboo Rafting Adventure
"I felt part of the family and nature, its a great and fun experience kayaking in Semadang
.
"
-Irene Macias & Noelia Campos, Spain,
09 August 2012, Kayaking Adventure
HIGHLIGHTS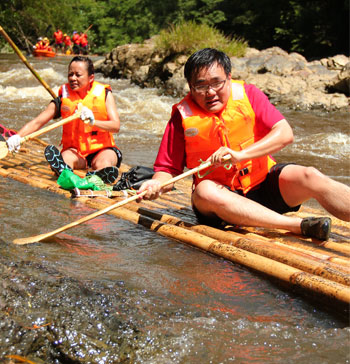 Look out for our other packages here! 
Contact Us
For inquiries and booking, send us an email or just give us a call:
+60138042118 (Edward) , +60193980609 (Luke)