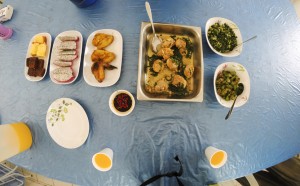 We devoured platters of chicken cooked in bamboo, curried vegetables and okra with sambal, all accompanied with locally harvested organic brown rice. For dessert, we ate fresh fruit (including dragonfruit! Yum!) and a glutinous rice cake that tasted exactly like sticky toffee pudding. – Margherita.
Macqueen brought Margherita and Nick on a short kayaking adventure on Semadang river in Sarawak and it was their favourite Borneo Adventure!
Margherita and Nick, are both writer and photographer from Italy and Australia. They run a travel website The Crowded Planet which focuses on nature and adventure travel.
On the rivers, life slows down. The world acquires that kind of laziness that is associated with tropical climates. Birds don't zip across the sky – they flutter. Fish let themselves be carried by the current. You often come across fishermen or villagers paddling up and down stream – the only exception to slow-moving life are children, running around the riverbanks then diving from trees and swings.