A true jungle guesthouse located next to Kuching Sarawak river, a paradise surrounded by the rain forest of Borneo, Malaysia. At this place Lars and Liza with their daughter Froya (born Jan 2010) have built our jungle home, a small farm where they have their own organically grown vegetables, fruits, herbs and a pepper garden.
They have tried to build an ecological place with solar energy and recycling. And with four extra bedrooms, a Bidayuh village(Kpg Semadang), wild jungle and Sarawak river flowing by it's a beautiful place to stay and experience local life, culture, food and a inhospitable but amazing wilderness.
Basic but clean accommodation together with a amazing experience are what they can offer and for those who are interested in birds, reptiles or other creatures of the rain forest it's a perfect place to stay and watch the wildlife.
If you are interested, please do visit their website ( http://www.kurakura.asia/ ) or email ( kurakurahomestay@gmail.com )
3 Days 2 Nights Package
All packages includes all meals, drinks(tea, coffee etc.), pick up/drop off and guided activities.
RM 495.00 per person.
Day 1: Pick up in Kuching at 9.00am (or airport) . Arrive at Kpg Semadang where we take a longboat up to our jungle home. Go shopping in the jungle; join us on a walk around the nearby forest looking for vegetables and other eatable things. Have a refreshing bath before we prepare dinner from the vegetables we found earlier.
Day 2: Breakfast outside with the birds. Spend the day trekking and caving, we got a few different trails and a few secret caves that can be explored. Cool off in the river and just enjoy some cold drinks on the balcony before night falls and dinner is served.
Day 3: After breakfast, free at leisure. Maybe have a look at our small library; we got maps and travel books for Malaysia and south East Asia. Depart for Kuching at 10am unless any tours are added.
Extension available: RM 115.00 per person a night.
We normally pick up at 09.00am from Kuching or at an arranged hour from the airport.
Children 11 years and below, half price.
Booking minimum 1 day in advance.
Maximum 8 persons (if bigger groups give us a call/mail).
Waterfall and longhouse tour:

RM 180.00 per person (including lunch, beverages and transport)
Spend the day at a hidden waterfall in the middle of the jungle, where we can swim, relax, sunbath and enjoy our lunch. About 1 hour drive from Kpg Semadang(our village) and a short walk(about 25min) true the jungle there's a beautiful waterfall surrounded by nature only.
On the way we will stop at Annah Rais Longhouse, a touristy but yet a real longhouse. The people here is used to visitors and with an relaxed atmosphere it's quite pleasant to walk around and learn about Bidayuh culture.
Because of the road condition up the mountain and the danger of flash floods, this trip depend on the weather and will not always be doable.
Accomodation RM 160 / USD$ 52 per person (first night)

Pick up/drop off, tea/coffee and all meals included (guided activities at additional cost).
Extension nights RM 115 / USD$ 37  per person(all meals included).
Add on activities:
Jungle trekking RM 165.00
Jungle shopping RM 70.00
Kayaking Rm 198.00
*all prices shown are per person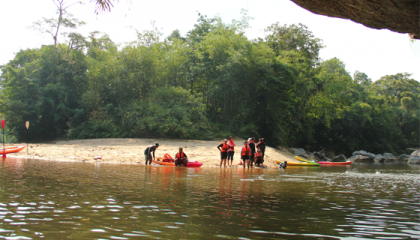 Tagang is a river conservation program to maintain the fresh water fisheries species in Semadang river. Be part of this program and get closer look at the fisheries by joining our river fish feeding session.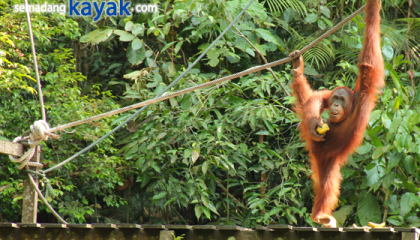 Start the adventure with a visit to Semengoh Wildlife Center to see the Orang Utans at feeding time.