There's nothing better than spending time with the people you love! This value for money kayaking package allows you and your friends to enjoy and experience Semadang premium kayaking trip while saving money. The trip includes a stopover along the river to a small waterfall and stopover for a swim. Bidayuh home-cooked lunch will be served during lunch and you'll be happy to taste the Bidayuh lunch delicacies.
---
Buddy Kayaking Package is valid for :
A group of 5 adults with the 6th person will get free kayaking adventure. [5 + 1]
Package Inclusive of : 
Bidayuh Home-Cooked Lunch
Stopover at Aruang Pi'in Trusan Mini Waterfall & at Sibudak for swimming.
River Fish Feeding at Tanjung Baru (Subject to local weather and water condition)
Return Transfer to Pickup & Dropoff Point
Waterproof Bag
Life jacket
Professional River Guide
Free Gift :
Normal Rate : RM198.00 per person (Adult)
Buddy Package Rate : 5 + 1 (Free) = RM990.00 per group (Adult)
Adventure Location :
 Start from Kampung Bengoh and ends at Kampung Semadang, Kuching, Sarawak.
Adventure Duration:
 5 to 7 hours depending on the pace of the group
Adventure Pickup & Dropoff Time:
Pickup : 0930
Expected return time : 1530
Things to bring:
Change of clothes, towel, sunblock, insect repellent, spectacle straps, footwear with good grip
Attire :
Outdoor and sport attire (long pants, shoes, swmiming wear, cap/hats, etc)
Flip-flop & sandal is not advisable as some part of the river is slippery especially the trek to the small waterfall
Weather :
Activities are held outdoors and are subjected to local weather conditions.
Semadang Kayak reserves the right to re-schedule the activities if necessary.
Mandatory :
Any health issues are to be declared in confidence prior to the kayaking adventure.
Disclaimer :
It is strongly recommended to bring insect repellent and sunblock
This adventure package is suitable for beginners
This adventure package is suitable for kids as young as 5 years old with parental or adult guidance.
Booking :
A booking of at least 2 days in advance is needed.
Booking can be made through our online booking form, email, phone call (Mr Edward : +60138042118, Mr Macquin : +60109715850).
Buddy Kayaking Package Itinerary
0930 – Pick up from Kuching Town (Hotel/Meeting Point)
1030 – Arrive at Kampung Bengoh
            Safety Briefing by River Guide
            Start kayaking adventure at starting point
            Visit Mini Waterfall
1130 – Lunch at Kampung Danu (Bidayuh Village)
            Village Walk
            Stopover at Sibudak for swimming
            River Fish Feeding – TAGANG (Subject to water level & water condition)
1500 – Arrive at Kampung Semadang (Finishing point)
            Transfer to Kuching Town (1530)
Remarks: Those going for the added-on Semenggoh Orangutan tour will depart Kuching (Pickup Point) at 0800 am.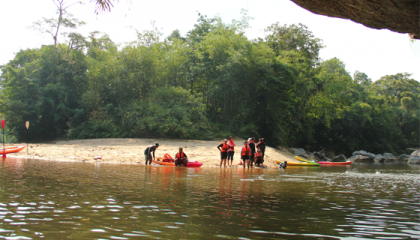 Tagang is a river conservation program to maintain the fresh water fisheries species in Semadang river. Be part of this program and get closer look at the fisheries by joining our river fish feeding session.